Our Mission
Stonehenge Therapeutic Community brings together people with chronic and acute addictions, including co-occurring mental health issues, to provide on-going opportunities for change and to promote a healthy lifestyle free of alcohol and drug abuse. We embrace the invaluable role of alumni and peers to accomplish this mission.
In the residential treatment program and aftercare services, this mission is accomplished through our progressive therapeutic community approach, supporting a healthy lifestyle free of alcohol and drug abuse.
We also offer community-based services along a harm reduction continuum. These programs include addiction supportive housing, services for pregnant or parenting women and regional outreach and addiction support coordination programs.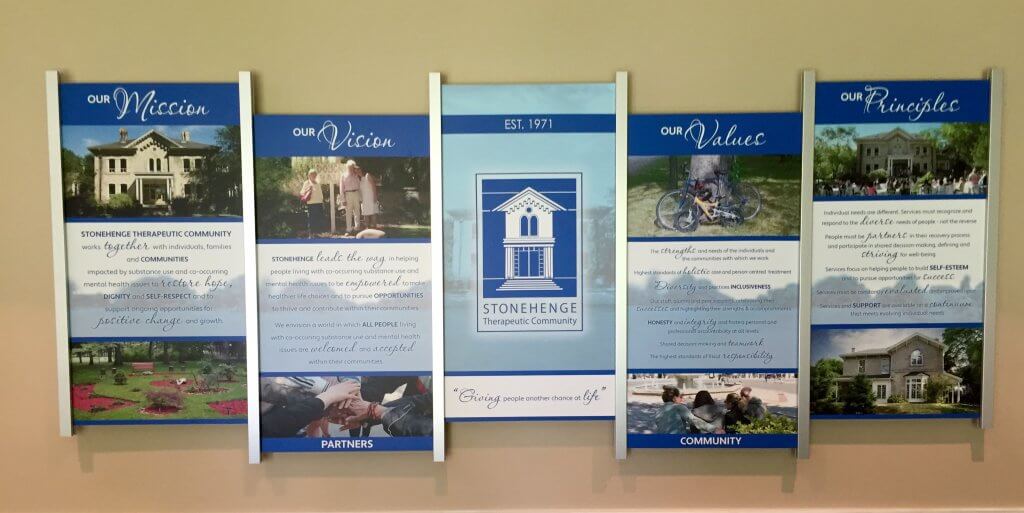 Our Vision
STC establishes the benchmark in addictions treatment and prevention for men, women and their children.  We lead the way in restoring hope, dignity and self-respect to our clients and their families, empowering them with the skills to choose a healthier lifestyle.
Our vision is that all clients will have stable housing, opportunities for employment, education and a support network so they will thrive and contribute within their communities.
Our Core Values:
Stonehenge Therapeutic Community will;
Ensure that our programs and services promote principles of self-help, mutual support and lifestyle change
Ensure that clients remain our primary focus
Respect our staff, alumni and peer supports as valued resources
Maintain the highest standards of holistic prevention and treatment
Respect the needs of our clients by providing services across the harm reduction continuum
Encourage innovation and organizational learning
Promote honesty and integrity
Foster professional and personal accountability at all levels
Practice shared decision-making and teamwork
Uphold high standards of fiscal responsibility
Promote and respect diversity
Strive for continuous organizational improvement
Act in a manner that reflects commitment to a clear statement of purpose and vision
Our Principles of Treatment
Treatment should be modified to match the needs of clients, not the reverse
Individual needs are different and client treatment plans must recognize this
Every effort must be made to build self-esteem and incorporate opportunities for success throughout treatment
Clients must be partners in their treatment and include shared decision making with the entire community
Support continues when formal treatment ends, through Aftercare
Treatment must be constantly evaluated and improved upon