Stonehenge Therapeutic Community is excited to announce the launch of a new service: our Community Withdrawal Support Service (CWSS). CWSS is a set of services that supports community-based withdrawal by providing direct care to individuals withdrawing as well as their supporters.  CWSS staff will also facilitate collaboration with other service providers who are supporting an individual to withdraw. The program also provides community withdrawal education.  The program started with a local launch only, but is now available across the Waterloo-Wellington region.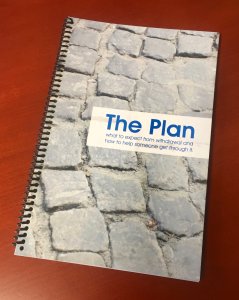 A key enabling component of this service is a 54-page resource booklet called 'The Plan', that Stonehenge developed specifically for this program, .  The Plan is an essential resource for individuals going through withdrawal, their family/friend supports, and the professionals involved in their care. The Plan outlines information on what to expect when going through withdrawal with detailed information for specific substances. It highlights information on post-acute withdrawal symptoms, relapse prevention, and available resources to help support individuals once acute withdrawal is complete. There is also a specific section designed for family and friends that provides resources on how to support a loved one and take care of oneself during this time. The Plan is a valuable reference for anyone supporting someone with an addiction.
Because there is nothing like this resource elsewhere, we're also making it available to other health service providers. We are providing it at cost ($10) plus shipping (or you can pick it up if you are local). If you would like to obtain copies of The Plan, please use our Order Form.