We are pleased to announce that it's now easier to get support and information for two of our newer programs through a new toll free phone number. The Community Withdrawal Support Service (CWSS) and the Rapid Access Addiction Clinics (RAAC) can now be accessed by calling 1-844-RAACWSS (1-844-722-2977). 
Thanks to opioid-related funding investments from the Waterloo Wellington LHIN, these programs are expanding from Guelph-based programs to regional services including Kitchener, and soon in Cambridge.
More information on the Community Withdrawal Support Service can be found under 'Community Services & Programs' on the Stonehenge website: https://stonehengetc.com/overv…/community-services-programs/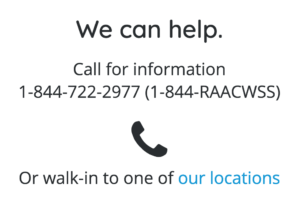 The RAAC's website is also expanding to match the clinics' expansion beyond Guelph and into both Wellington & Waterloo Regions. Check out the newly updated website at http://www.raacww.ca. Use the new 'Locations' tab to get specific information for each site; Guelph, Kitchener, and opening soon, Cambridge!