Do you envision a community where people living with substance use are welcomed, supported, and thriving?
So do we.
Join our Team! Stonehenge offers career opportunities in: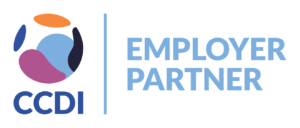 Clinical and Direct Client Support
Peer Support
Administrative Support
Addiction Medicine
Leadership
Browse our new Careers page

to view or apply to any of our current career opportunities.

If you would like to be considered for future opportunities, please apply to the general career opportunities link.
We thank all applicants for their interest, however, due to the volume of applications only those candidates invited for an interview will be contacted.
Stonehenge Therapeutic Community accommodates the needs of applicants throughout the recruitment process in accordance with the Accessibility for Ontarians with Disabilities Act (AODA) and Human Rights legislation. Should you require it, accommodation can be made at any point, upon request.
---
Our staff make a difference for our clients, while growing in their careers

"I love working at Stonehenge because I know the work I do supports folks to find their recovery, grow their hope and thrive in life after Stonehenge"
"Because our program has a foundation of feedback, it really fosters growth. Constantly challenged and learning every day"
"I love working in the RAAM, supporting individuals in our community with their substance use and helps reduce stigma while providing non-judgmental, low barrier services."
"STC believes in me and encourages growth individually and as a team member through training, collaboration and new opportunities".
---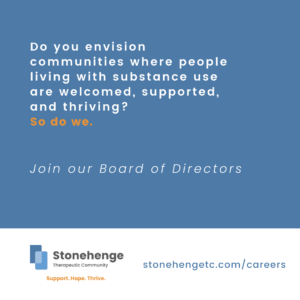 Stonehenge Therapeutic Community is currently seeking candidates for our governing Board of Directors.
Stonehenge has been a part of the Guelph community for 50 years and has programs extending across Wellington County and Waterloo Region. Board members provide strategic governance and risk-based decision-making support to the Executive Director.
The Board invites and encourages applications from all people, including individuals from groups that are traditionally underrepresented, who may contribute to the culture of inclusion and diversity at Stonehenge. To express you interest and request further information about the role, please email us at info@stonehengetc.com
For additional information on our programs, communities and objectives please visit:
---
Student Placements
Students wishing to complete a placement at Stonehenge Therapeutic Community must apply 8-12 weeks in advance in order to ensure we can obtain security clearance prior to the start date of the placement.  Upon acceptance of a placement, successful candidates will be asked to provide proof of valid First Aid/CPR training and complete a security clearance through Public Works & Government Services Canada (facilitated by the Agency). Student applicants should also be aware that without their own transportation, placement options will be limited due to the rural location of some of our treatment facilities.
If you feel that you can meet the above requirements and wish to apply for student placement at STC, please complete the Student Placement Consideration Form.
In addition to the completed Student Placement Consideration Form, please include a copy of your resume and a cover letter explaining your experience and interest in a placement at Stonehenge. You can direct your information to placements@stonehengetc.com.