Residential Program, 1971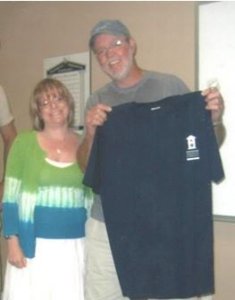 I started drinking in my early teens. The first time I got drunk, I loved it. It took away my fears and gave me the courage to do what I wanted. One of my biggest fears was that I couldn't read. I was fearful that people would find out. I was in a special class at school from age 8 to age 15. I had no self-esteem or confidence in myself. I drank and then started using hard drugs like LSD, speed and meth.
In 1971 I was 21 years old and had been doing speed for 3 years. I weighed 136 pounds and was in jail on drug-related offences.  At that time Gary Lindsay, a staff member of Dr. Dougan's, came to the jail and talked to me about a new program starting up on a farm near Guelph. I was tired of having to ask a friend for a shower, to borrow a t-shirt, or even for a place to sleep. I thought if this program could help me get healthy, both mentally and physically, which would help me get a job, I was pretty sure I wouldn't go back to that stuff again. So I agreed to join this new, unknown program. Dr. Dougan and the staff saved my life by allowing me to be one of the first residents.
It was on a farm near Campbellville, across from Mohawk Raceway. We had group therapy every day. Two staff lived there as well (Mark and Julia). We had chickens and goats and a huge vegetable garden. Within three weeks I was feeling better. The ten of us (9 men, 1 woman) were eating properly, doing chores and tending the farm. We learned to become friends and to help and care for each other. We talked about our lives; what had gone on and what was next. Almost a year later I left a changed person. I had grabbed the ball and ran with it, and never looked back.
The program was so new it didn't even have a name. The group of us – the very first group – gave it a name. One resident said "it would be one of the eight wonders of the world if we ever got off drugs". So Dr. Dougan suggested that we name it one of the great wonders of the world. We went through all the wonders and finally agreed on one, so we named it Stonehenge. Dr. Dougan says I was the one who pointed to a pile of rocks on the farmland and suggested Stonehenge, but I don't recall this.
When I completed the program, Stonehenge helped me get a job in maintenance with the Wellington County Board of Education. I worked there 3 ½ years.  I then moved to Calgary and worked for the City as a bus driver for 39 years.
I love Stonehenge. I'm very proud to be an alumnus and also proud of how far I've come from that time 45 years ago. I took action for my own behaviour and the program did what it was supposed to do for me. It helped me realize that there was more to life. I learned to respect and trust myself and allow people to help me. I put my trust in the staff and the program and I'm so pleased that it is still going today.
Thank you to Stonehenge for giving me a chance at a new life. This was a life-changing experience for me and I cannot imagine what my life would be like today if I was not given that second chance at life.