The Drug Treatment Court program is a specialized court process for non-violent offenders with addiction issues. The program brings together judicial and social services who work with an offender towards positive change.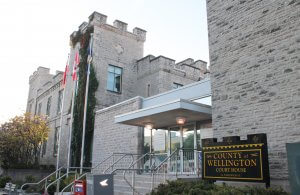 Eligibility Criteria
Adults 18 years of age or older
Charges in the Guelph-Wellington Region that are related directly or indirectly to substance use
Exclusion Criteria
Outstanding charges in any other jurisdiction
Drug offenses for commercial gain
Current or outstanding impaired driving charges
Those charged with a violent offence, including domestic violence, may not be eligible
Referral Process
Clients who are interested in accessing drug treatment court should ask their lawyer to complete an Intake Form. The completed form is faxed to the Provincial and Federal Crown who determines initial eligibility for the program. If deemed eligible, individuals are referred to the Drug Court Liaison for assessment.
For more information about this program, call 519-362-3773.