Community Withdrawal Support Service (CWSS) is a set of services that offers an alternative to residential withdrawal management for individuals who can safely withdraw from alcohol and/or other drugs in a safe and supportive community environment.  CWSS staff will also facilitate collaboration with other service providers who are supporting an individual to withdraw. Services also include consultation and capacity-building to referring agencies as well as primary care providers. Services are voluntary and are provided to individuals 18 years of age and older in Guelph and rural Wellington County.
Program Criteria
The Community Withdrawal Support Service is available to individuals who:
Are 18 years of age or older
Have a stable place to stay in the Guelph-Wellington community
Have reliable access to a phone
Are willing and able to follow treatment recommendations
Have a supportive person to assist through acute withdrawal (as needed)
Do not have a history of complicated withdrawal symptoms or other significant health concerns
Referral Process
If you require further information, have questions, or would like to access CWSS, please contact the service directly by calling toll free:  1-844-722-2977.  
'The Plan'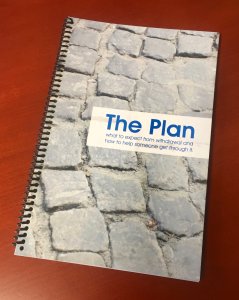 A key enabling component of our Community Withdrawal Support Service is a resource booklet called 'The Plan'.  The Stonehenge team developed this resource specifically for this program.  The Plan is an essential resource for individuals going through withdrawal, their family/friend supports, and the professionals involved in their care. The Plan outlines information on what to expect when going through withdrawal with detailed information for specific substances. The Plan is an informative reference for anyone supporting someone with an addiction.
Because there is nothing like this resource elsewhere, we're also making it available to other health service providers. We are providing it at cost ($20) plus shipping,  or you can pick up directly from our Guelph office. If you would like to obtain copies of The Plan, please use the contact information on our Resources page.
Withdrawal Kits
Stonehenge has also created specially-designed Withdrawal Kits. The backpacks provide an array of support resources for someone going through withdrawal. Items include food items, hot/cold packs, wipes, information and much more. The contents of the kits were chosen by people with lived experience, in other words, people who know exactly what to include.