Addiction Support Coordination (ASC) is a specialized service that provides support coordination for specialized populations (geriatric, acquired brain injury, developmental disability, complex mental health) living with addiction issues, as well as education and consultation to professionals working with these populations. Services are voluntary and are provided to clients 18 years of age and older in Guelph, Cambridge, and Kitchener-Waterloo.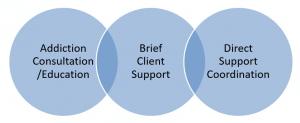 The Continuum of ASC Services
Referral Process
Referrals to the ASC program are accepted from service providers only, and not from individuals directly.  Service providers are encouraged to contact a program staff on our toll-free line at 1-833-272-0003.  ASC staff monitor this line during business hours (8:30am – 4:30pm). If it is after hours, leave a message and a staff will respond the following day.